(BIVN) – A 564-acre property in Kapoaula is set to be replanted in koa trees for both conservation and commercial timber harvest, according to a draft environmental assessment for the project's forest management plan.

The applicant, Paniolo Forestry, LLC, hopes to convert the pastureland – acquired from Parker Ranch by Siglo Forest, LLC – back to a semblance of the native koa-ʻōhiʻa forest that once stood in this area.

In 50 years, "the property would consist of a mixed-species native forest with steep sloped areas primarily for native species conservation and less steeply sloped, less erodible areas primarily used for timber production," the applicant says.

Forest Solutions Inc. has authored a site-specific forestry management plan for the area, the document shows.

"The resulting koa forest would provide a sustainable, long-term, predictable source of instrument-grade wood, produce high-quality wood for other uses, and provide habitat for native species, inspiring others to plant trees on their land for similar purposes," the document states.

The applicant lists the following 10-year objectives:
Reforest the entire property with koa and a complement of associated native forest plants.
Improve the quality of wood to be harvested in the future by planting seed from known, high-quality sources and utilizing cuttings propagated from trees identified as having superior color, figure, and form
Intensively manage koa for saw timber on those areas of the property with slopes less than 20 percent (%) – accounting for 70% of the property or 390 acres.
Reforest the remaining upland areas with a multi-species native forest, utilizing koa as a pioneer species – accounting for 30% of the area or 163 acres.
Protect planted forest from wind by planting fast-growing, cattle-resistant windbreaks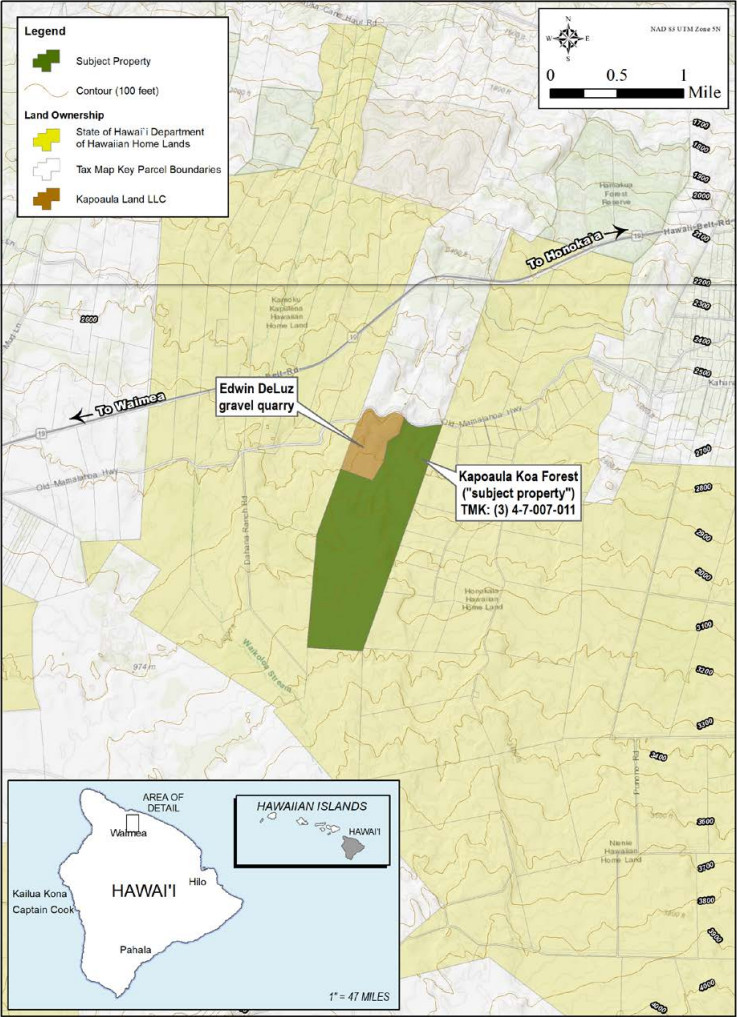 The EA document also states:
A small, specialty instrument-grade lumber processing facility (permit applications in process) is also being developed in the lowest part of the property near the road onsite (Figures 1.1-2 and 1.1-4). The processing facility for specialty lumber from other areas of the island is a separate project being undertaken by the property owner and is analyzed as a cumulative impact to the proposed action in this Environmental Assessment (EA). The processing of the wood during operations is analyzed in this EA.