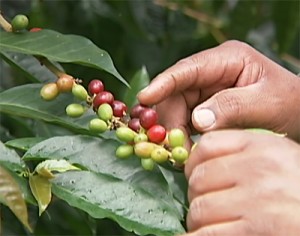 Video by David Corrigan | Voice of Stephanie Salazar
There was an unwelcome specter looming over the Ka'u Coffee Festival this year.
You may not be able to tell by the scenes of celebration here in Hawaii's fast growing, acclaimed coffee region. However, a big concern has found its way to the pristine coffee farming area of cloud rest in Pahala. A big concern in the form of a little pest.
State entomolgist Pat Conant has tracked the Coffee Berry Borer, or CBB, since it was first confirmed on Hawaii Island in the famous Kona coffee growing region in 2010. Conant had an informational booth set up at the festival.
The CBB was detected in Waiohinu (near Na'alehu) in October, but the news that the insect reached Pahala was only announced a few days before the annual Ka'u Coffee celebration.
The CBB is considered the world's most destructive coffee pest. Researchers estimate damage caused by the pest worldwide is about $500 million per year in a global industry worth $90 billion per year.
The beetle lays its eggs in the coffee cherry where they develop into larva. The larva feed on the inside of the coffee bean. The bean may be further damaged by fungal, bacterial and insect infestation. The combined damage can reduce yield, lower the quality and destroy the entire bean.
Because of the arrival of the CBB, the Hawaii Board of Agriculture voted to establish two quarantine zones on the Big Island.
Conant says there are some options for farmers in the region, like the use of a fungus – Beauveria bassiana GHA– which has been given expedited permitting by the ag board for use by Kona farmers. The fungus seems effective in reducing the CBB.
Talking to Miguel Meza, the coffee consultant who has helped Ka'u Coffee reach new heights… he believes the CBB will not spell the end of the industry in Pahala.
"Its not the end of coffee in Ka'u," says Meza. "It will unfortunatley add to the cost of production, but we will still have great coffee here, and we can still potentially produce profitable coffee here. It was inevitable."
For more on the 2011 Ka'u Coffee Festival, visit the website at kaucoffeefest.com.
The Big Island Video News report on the festival, published yesterday, is here.
EDITOR'S NOTE:That excellent ukulele you hear throughout this piece was performed on the day of the festival by a young musician well known on Hawaii Island: Brittni Paiva, whose has more to offer on her website, brittnipaiva.com.